Here are my picks for what you must read in January 2017:
1. Dawn Study (Soulfinders #3) by Maria V. Snyder – January 25th 2017 by Harlequin Teen
Despite the odds, Yelena and Valek have forged an irrevocable bond and a family that transcends borders. Now, when their two homelands stand on the brink of war, they must fight with magic and cunning to thwart an Ixian plot to invade Sitia.

Yelena seeks to break the hold of the insidious Theobroma that destroys a person's resistance to magical persuasion. But the Cartel is determined to keep influential citizens and Sitian diplomats in thrall and Yelena at bay. With every bounty hunter after her, Yelena is forced to make a dangerous deal.

With might and magic, Valek peels back the layers of betrayal surrounding the Commander. At its rotten core lies a powerful magician and his latest discovery. The fate of all rests upon two unlikely weapons. One may turn the tide. The other could spell the end of everything.
2. Lady Helen and the Dark Days Pact (Lady Helen #2) by Alison Goodman – January 1st 2017 by HarperCollins AU
Summer, 1812

After the scandalous events at her presentation ball in London, Lady Helen has taken refuge at the fashionable seaside resort of Brighton, where she is training to be a Reclaimer with the covert Dark Days Club.

As she struggles to put aside her genteel upbringing and take up the weapons of a warrior, Helen realizes that her mentor, Lord Carlston, is fighting his own inner battle. Has the foul Deceiver energy poisoned his soul, or is something else driving him towards violent bouts of madness? Either way, Helen is desperate to help the man with whom she shares a deep but forbidden connection.

When Mr Pike, the hard bureaucratic heart of the Dark Days Club, arrives in Brighton, no one is prepared for the ordinary evil he brings in his wake. He has a secret task for Helen and Mr Hammond, and the authority of the Prince Regent. They have no choice but to do as he orders, knowing that the mission will betray everyone around them and possibly bring about Lord Carlston's annihilation.
3. Caraval (Caraval #1) by Stephanie Garber – January 31st 2017 by Hodder & Stoughton
Welcome to Caraval, where nothing is quite what it seems.

Scarlett has never left the tiny isle of Trisda, pining from afar for the wonder of Caraval, a once-a-year week-long performance where the audience participates in the show.

Caraval is Magic. Mystery. Adventure. And for Scarlett and her beloved sister Tella it represents freedom and an escape from their ruthless, abusive father.

When the sisters' long-awaited invitations to Caraval finally arrive, it seems their dreams have come true. But no sooner have they arrived than Tella vanishes, kidnapped by the show's mastermind organiser, Legend.

Scarlett has been told that everything that happens during Caraval is only an elaborate performance. But nonetheless she quickly becomes enmeshed in a dangerous game of love, magic and heartbreak. And real or not, she must find Tella before the game is over, and her sister disappears forever.
4. The Bear and the Nightingale by Katherine Arden – January 10th 2017 by Del Rey
A magical debut novel for readers of Naomi Novik's Uprooted, Erin Morgenstern's The Night Circus, and Neil Gaiman's myth-rich fantasies, The Bear and the Nightingale spins an irresistible spell as it announces the arrival of a singular talent with a gorgeous voice.

At the edge of the Russian wilderness, winter lasts most of the year and the snowdrifts grow taller than houses. But Vasilisa doesn't mind—she spends the winter nights huddled around the embers of a fire with her beloved siblings, listening to her nurse's fairy tales. Above all, she loves the chilling story of Frost, the blue-eyed winter demon, who appears in the frigid night to claim unwary souls. Wise Russians fear him, her nurse says, and honor the spirits of house and yard and forest that protect their homes from evil.

After Vasilisa's mother dies, her father goes to Moscow and brings home a new wife. Fiercely devout, city-bred, Vasilisa's new stepmother forbids her family from honoring the household spirits. The family acquiesces, but Vasilisa is frightened, sensing that more hinges upon their rituals than anyone knows.

And indeed, crops begin to fail, evil creatures of the forest creep nearer, and misfortune stalks the village. All the while, Vasilisa's stepmother grows ever harsher in her determination to groom her rebellious stepdaughter for either marriage or confinement in a convent.

As danger circles, Vasilisa must defy even the people she loves and call on dangerous gifts she has long concealed—this, in order to protect her family from a threat that seems to have stepped from her nurse's most frightening tales.
5. Carve the Mark (Carve the Mark #1) by Veronica Roth – January 17th 2017 by HarperCollins
On a planet where violence and vengeance rule, in a galaxy where some are favored by fate, everyone develops a currentgift, a unique power meant to shape the future. While most benefit from their currentgifts, Akos and Cyra do not—their gifts make them vulnerable to others' control. Can they reclaim their gifts, their fates, and their lives, and reset the balance of power in this world?

Cyra is the sister of the brutal tyrant who rules the Shotet people. Cyra's currentgift gives her pain and power—something her brother exploits, using her to torture his enemies. But Cyra is much more than just a blade in her brother's hand: she is resilient, quick on her feet, and smarter than he knows.

Akos is from the peace-loving nation of Thuvhe, and his loyalty to his family is limitless. Though protected by his unusual currentgift, once Akos and his brother are captured by enemy Shotet soldiers, Akos is desperate to get his brother out alive—no matter what the cost. When Akos is thrust into Cyra's world, the enmity between their countries and families seems insurmountable. They must decide to help each other to survive—or to destroy one another.
6. Wires and Nerve, Volume 1 (Wires and Nerve #1) by Marissa Meyer, illustrated by Douglas Holgate – January 31st 2017 by Feiwel & Friends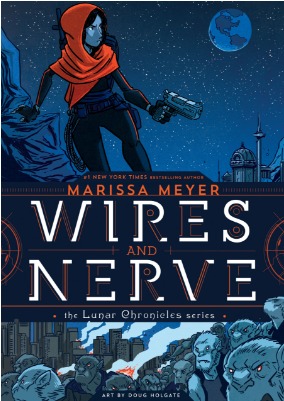 In her first graphic novel, #1 New York Times and USA Today bestseller Marissa Meyer follows Iko, the beloved android from the Lunar Chronicles, on a dangerous and romantic new adventure — with a little help from Cinder and the Lunar team.

In her first graphic novel, bestselling author Marissa Meyer extends the world of the Lunar Chronicles with a brand-new, action-packed story about Iko, the android with a heart of (mechanized) gold. When rogue packs of wolf-hybrid soldiers threaten the tenuous peace alliance between Earth and Luna, Iko takes it upon herself to hunt down the soldiers' leader. She is soon working with a handsome royal guard who forces her to question everything she knows about love, loyalty, and her own humanity. With appearances by Cinder and the rest of the Rampion crew, this is a must-have for fans of the bestselling series.
Which of these looks interesting to you? Any others you want to add to the list?