Here are my picks for what you must read in June 2015:
1. A Darker Shade of Magic (A Darker Shade of Magic #1) by V.E. Schwab – June 15th 2015 by Titan Books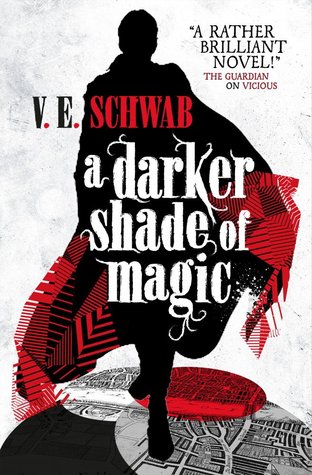 Kell is one of the last Travelers—rare magicians who choose a parallel universe to visit.

Grey London is dirty, boring, lacks magic, ruled by mad King George. Red London is where life and magic are revered, and the Maresh Dynasty presides over a flourishing empire. White London is ruled by whoever has murdered their way to the throne. People fight to control magic, and the magic fights back, draining the city to its very bones. Once there was Black London – but no one speaks of that now.

Officially, Kell is the Red Traveler, personal ambassador and adopted Prince of Red London, carrying the monthly correspondences between royals of each London. Unofficially, Kell smuggles for those willing to pay for even a glimpse of a world they'll never see. This dangerous hobby sets him up for accidental treason. Fleeing into Grey London, Kell runs afoul of Delilah Bard, a cut-purse with lofty aspirations. She robs him, saves him from a dangerous enemy, then forces him to another world for her 'proper adventure'.

But perilous magic is afoot, and treachery lurks at every turn. To save all of the worlds, Kell and Lila will first need to stay alive — trickier than they hoped.
2. The Liar's Key (Red Queen's War #2) by Mark Lawrence – June 18th 2015 by Harper Voyager
The Red Queen has set her players on the board…

Winter is keeping Prince Jalan Kendeth far from the longed-for luxuries of his southern palace. And although the North may be home to his companion, the warrior Snorri ver Snagason, he is just as eager to leave. For the Viking is ready to challenge all of Hell to bring his wife and children back into the living world. He has Loki's key – now all he needs is to find the door.

As all wait for the ice to unlock its jaws, the Dead King plots to claim what was so nearly his – the key to the underworld — so that his dead subjects can rise and rule.
3. Burn (The Rephaim #4) by Paula Weston – June 24th 2015 by Text Publishing
Goodreads || Preorder
Gaby remembers everything.

For a year she believed she was a backpacker chilling out in Pandanus Beach. Working at the library. Getting over the accident that killed her twin brother.

Then Rafa came to find her and Gaby discovered her true identity as Gabe: one of the Rephaim. Over a hundred years old. Half angel, half human, all demon-smiting badass—and hopelessly attracted to the infuriating Rafa.

Now she knows who faked her memories, and how—and why it's all hurtling towards a massive showdown between the forces of heaven and hell.

More importantly, she remembers why she's spent the last ten years wanting to seriously hurt Rafa.
4. The Water Knife by Paolo Bacigalupi – May 26th 2015 by Orbit
The American Southwest has been decimated by drought. Nevada and Arizona skirmish over dwindling shares of the Colorado River, while California watches, deciding if it should just take the whole river all for itself. Into the fray steps Las Vegas water knife Angel Velasquez. Detective, assassin, and spy, Angel "cuts" water for the Southern Nevada Water Authority and its boss, Catherine Case, ensuring that her lush, luxurious arcology developments can bloom in the desert and that anyone who challenges her is left in the gutted-suburban dust.

When rumors of a game-changing water source surface in Phoenix, Angel is sent to investigate. With a wallet full of identities and a tricked-out Tesla, Angel arrows south, hunting for answers that seem to evaporate as the heat index soars and the landscape becomes more and more oppressive. There, Angel encounters Lucy Monroe, a hardened journalist, who knows far more about Phoenix's water secrets than she admits, and Maria Villarosa, a young Texas migrant, who dreams of escaping north to those places where water still falls from the sky.

As bodies begin to pile up and bullets start flying, the three find themselves pawns in a game far bigger, more corrupt, and dirtier than any of them could have imagined. With Phoenix teetering on the verge of collapse and time running out for Angel, Lucy, and Maria, their only hope for survival rests in one another's hands. But when water is more valuable than gold, alliances shift like sand, and the only truth in the desert is that someone will have to bleed if anyone hopes to drink.
5. To Hold the Bridge by Garth Nix – May 27th 2015 by Allen & Unwin
Goodreads || Preorder
Far to the north of the magical Old Kingdom, the Greenwash Bridge Company has been building a bridge for almost a hundred years. It is not an easy task, for many dangers threaten the bridge builders, from nomad raiders to Free Magic sorcerers. Despite the danger, Morghan wants nothing more than to join the Bridge Company as a cadet. But the company takes only the best, the most skillful Charter mages, and trains them hard. For the night might come when even an untried young cadet must hold the bridge alone against the most devastating of foes…

Here is a collection of Garth Nix's best short fiction, including an Old Kingdom novella and stoies set in the worlds of Shade's Children and A Confusion of Princes, showcasing this hugely popular author.
6. The Darkling Child (The Defenders of Shannara #2) by Terry Brooks – June 9th 2015 by Hachette Australia
Paxon Leah has joined the Druid Order as a paladin, tasked with protecting the Druids with the aid of his magical sword. But Paxon's toughest assignment will come when he must track down a young musician with newly-manifested magic before a rival sorcerer can corrupt the boy.
7. Hidden Huntress (The Malediction Trilogy #2) by Danielle L. Jensen – June 2nd 2015 by Angry Robot
Sometimes, one must accomplish the impossible.

Beneath the mountain, the king's reign of tyranny is absolute; the one troll with the capacity to challenge him is imprisoned for treason. Cécile has escaped the darkness of Trollus, but she learns all too quickly that she is not beyond the reach of the king's power. Or his manipulation.

Recovered from her injuries, she now lives with her mother in Trianon and graces the opera stage every night. But by day she searches for the witch who has eluded the trolls for five hundred years. Whether she succeeds or fails, the costs to those she cares about will be high.

To find Anushka, she must delve into magic that is both dark and deadly. But the witch is a clever creature. And Cécile might not just be the hunter. She might also be the hunted…
8. The Sacred Lies of Minnow Bly by Stephanie Oakes – June 22nd 2015 by HarperCollins Australia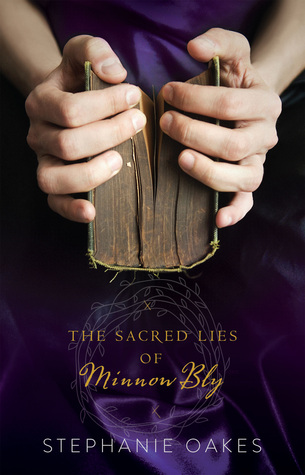 The Kevinian cult has taken everything from seventeen-year-old Minnow: twelve years of her life, her family, and her ability to trust.

And when Minnow rebelled, they took away her hands, too.

Now the Kevinian Prophet has been murdered and the camp set aflame and it's clear Minnow knows something. But she's not talking. As she adjusts to a life behind bars in juvenile detention, Minnow struggles to make sense of all she has been taught to believe, particularly as she dwells on the events that led up to her incarceration. But when an FBI detective approaches her about making a deal, Minnow sees she can have the freedom she always dreamed of; if she is willing to part with the terrible secrets of her past.
Which of these looks interesting to you? Any others you want to add to the list?