Welcome to another SpecFic 101! I'm getting on the Halloween band-wagon and recommending some spooky stories to celebrate this time of year 🙂
• A Confession •
I don't do well with anything even remotely scary. I was the only person to scream in a packed movie theatre watching I Am Legend (in my defence, I'd never watched anything with zombies before, and hence had no idea that I have a paralysing fear of them. Lesson learned.) So there's a high chance that all the things I will recommend here won't be scary at all, but feel free to add the really scary stuff in the comments!
• Recommendations •
Half Bad (Half Life #1) by Sally Green
Sixteen-year-old Nathan lives in a cage: beaten, shackled, trained to kill. In a modern-day England where two warring factions of witches live amongst humans, Nathan is an abomination, the illegitimate son of the world's most terrifying and violent witch, Marcus. Nathan's only hope for survival is to escape his captors, track down Marcus, and receive the three gifts that will bring him into his own magical powers—before it's too late. But how can Nathan find his father when there is no one safe to trust, not even family, not even the girl he loves?
Unspoken (The Lynburn Legacy #1) by Sarah Rees Brennan
Kami Glass loves someone she's never met . . . a boy she's talked to in her head ever since she was born. She wasn't silent about her imaginary friend during her childhood, and is thus a bit of an outsider in her sleepy English town of Sorry-in-the-Vale. Still, Kami hasn't suffered too much from not fitting in. She has a best friend, runs the school newspaper, and is only occasionally caught talking to herself. Her life is in order, just the way she likes it, despite the voice in her head. But all that changes when the Lynburns return. The Lynburn family has owned the spectacular and sinister manor that overlooks Sorry-in-the-Vale for centuries. The mysterious twin sisters who abandoned their ancestral home a generation ago are back, along with their teenage sons, Jared and Ash, one of whom is eerily familiar to Kami. Kami is not one to shy away from the unknown—in fact, she's determined to find answers for all the questions Sorry-in-the-Vale is suddenly posing.
Fairytales for Wilde Girls by Allyse Near
There's a dead girl in a birdcage in the woods. That's not unusual. Isola Wilde sees a lot of things other people don't. But when the girl appears at Isola's window, her every word a threat, Isola needs help. Isola needs to uncover the truth behind the dead girl's demise and appease her enraged spirit, before the ghost steals Isola's last breath.
This is how I described the book, 30 pages into it: "Deliciously creepy. Haunting. Clever. Witty. Impeccably imaged. Brilliant. Perfect." And that just about sums it up.
The Replacement by Brenna Yovanoff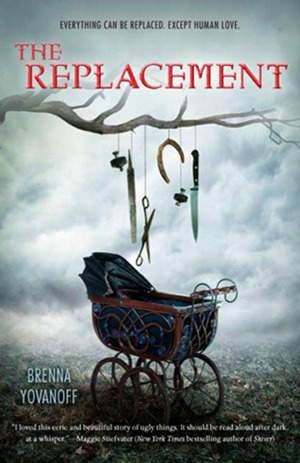 Mackie Doyle is not one of us. Though he lives in the small town of Gentry, he comes from a world of tunnels and black murky water, a world of living dead girls ruled by a little tattooed princess. He is a Replacement, left in the crib of a human baby sixteen years ago. Now, because of fatal allergies to iron, blood, and consecrated ground, Mackie is fighting to survive in the human world.
A story about a changeling! Yovanoff's books are always creepy, but this one has stayed with me since I read it.
Broken (Broken #1) by A.E. Rought
A string of suspicious deaths near a small Michigan town ends with a fall that claims the life of Emma Gentry's boyfriend, Daniel. Emma is broken, a hollow shell mechanically moving through her days. She and Daniel had been made for each other, complete only when they were together. Now she restlessly wanders the town in the late Fall gloom, haunting the cemetery and its white-marbled tombs, feeling Daniel everywhere, his spectre in the moonlight and the fog. When she encounters newcomer Alex Franks, only son of a renowned widowed surgeon, she's intrigued despite herself. He's an enigma, melting into shadows, preferring to keep to himself. But he is as drawn to her as she is to him. He is strangely… familiar. From the way he knows how to open her locker when it sticks, to the nickname she shared only with Daniel, even his hazel eyes with brown flecks are just like Daniel's.
A modern spin on Frankenstein that's just perfect for this time of year!
Her Fearful Symmetry by Audrey Niffenegger
When Elspeth Noblin dies of cancer, she leaves her London apartment to her twin nieces, Julia and Valentina. These two American girls never met their English aunt, only knew that their mother, too, was a twin, and Elspeth her sister. Julia and Valentina are semi-normal American teenagers–with seemingly little interest in college, finding jobs, or anything outside their cozy home in the suburbs of Chicago, and with an abnormally intense attachment to one another.
The Diviners (The Diviners #1) by Libba Bray
1920s New York. A teen clairvoyant. An old evil. It has begun… Evie O'Neill has been exiled from her boring old home town and shipped off to the bustling streets of New York City – and she is pos-i-tute-ly thrilled! New York is the city of speak-easies, rent parties, shopping and movie palaces, and soon enough Evie is running with glamorous Ziegfeld girls and rakish pickpockets. The only catch is that Evie has to live with her Uncle Will, curator of the Museum of American Folklore, Superstition, and the Occult – also known as 'The Museum of the Creepy Crawlies'. When a rash of occult-based murders comes to light, Evie and her uncle are right in the thick of it. Even Evie's new pals – hoofers, numbers runners and activists, but all swell kids – are drawn into the investigation. And through it all, Evie has a secret: a mysterious power that could help catch the killer – if he doesn't catch her first …
Very creepy. Very entertaining.
Anna Dressed in Blood by Kendare Blake
Cas Lowood has inherited an unusual vocation: He kills the dead. So did his father before him, until he was gruesomely murdered by a ghost he sought to kill. Now, armed with his father's mysterious and deadly athame, Cas travels the country with his kitchen-witch mother and their spirit-sniffing cat. They follow legends and local lore, destroy the murderous dead, and keep pesky things like the future and friends at bay. Searching for a ghost the locals call Anna Dressed in Blood, Cas expects the usual: track, hunt, kill. What he finds instead is a girl entangled in curses and rage, a ghost like he's never faced before.
Asylum (Asylum #1) by Madeleine Roux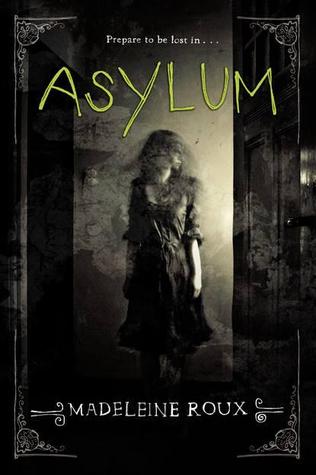 For sixteen-year-old Dan Crawford, New Hampshire College Prep is more than a summer program—it's a lifeline. An outcast at his high school, Dan is excited to finally make some friends in his last summer before college. But when he arrives at the program, Dan learns that his dorm for the summer used to be a sanatorium, more commonly known as an asylum. And not just any asylum—a last resort for the criminally insane. As Dan and his new friends, Abby and Jordan, explore the hidden recesses of their creepy summer home, they soon discover it's no coincidence that the three of them ended up here. Because the asylum holds the key to a terrifying past. And there are some secrets that refuse to stay buried.
• Other books •
The Forest of Hands and Teeth by Carrie Ryan
Miss Peregrine's Home for Peculiar Children (Miss Peregrine's Home for Peculiar Children #1) by Ransom Riggs
Paper Valentine by Brenna Yovanoff
In the Shadow of Blackbirds by Cat Winters
The Fall by Bethany Griffin
Carrie, It, The Shining, and Joyland by Stephen King
Do you have any favourite Halloween reads? Please share them below!