Here are my picks for what you must read in February 2017:
1. Norse Mythology by Neil Gaiman – February 7th 2017 by Bloomsbury Publishing
Neil Gaiman has long been inspired by ancient mythology in creating the fantastical realms of his fiction. Now he turns his attention back to the source, presenting a bravura rendition of the great northern tales. In Norse Mythology, Gaiman fashions primeval stories into a novelistic arc that begins with the genesis of the legendary nine worlds; delves into the exploits of the deities, dwarves, and giants; and culminates in Ragnarok, the twilight of the gods and the rebirth of a new time and people. Gaiman stays true to the myths while vividly reincarnating Odin, the highest of the high, wise, daring, and cunning; Thor, Odin's son, incredibly strong yet not the wisest of gods; and Loki, the son of giants, a trickster and unsurpassable manipulator. From Gaiman's deft and witty prose emerges the gods with their fiercely competitive natures, their susceptibility to being duped and to dupe others, and their tendency to let passion ignite their actions, making these long-ago myths breathe pungent life again.
2. King's Cage (Red Queen #3) by Victoria Aveyard – February 9th 2017 by Orion Publishing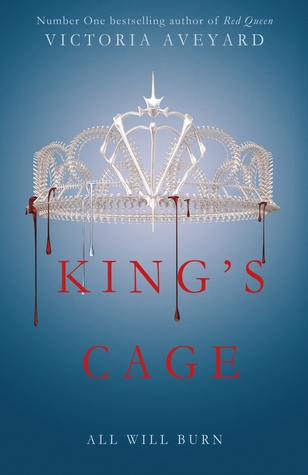 Mare Barrow is a prisoner, powerless without her lightning, tormented by her lethal mistakes. She lives at the mercy of a boy she once loved, a boy made of lies and betrayal. Now a king, Maven Calore continues weaving his dead mother's web in an attempt to maintain control over his country—and his prisoner.

As Mare bears the weight of Silent Stone in the palace, her once-ragtag band of newbloods and Reds continue organizing, training, and expanding. They prepare for war, no longer able to linger in the shadows. And Cal, the exiled prince with his own claim on Mare's heart, will stop at nothing to bring her back.

When blood turns on blood, and ability on ability, there may be no one left to put out the fire—leaving Norta as Mare knows it to burn all the way down.
3. A Conjuring of Light (Shades of Magic #3) by V.E. Schwab – February 28th 2017 by Titan Books
The battle between four magical Londons comes to a head in this stunning finale to the New York Times bestselling Shades of Magic trilogy by rising star V. E. Schwab.

London's fall and kingdoms rise while darkness sweeps the Maresh Empire—and the fraught balance of magic blossoms into dangerous territory while heroes and foes struggle alike. The direct sequel to A Gathering of Shadows, and the final book in the Shades of Magic epic fantasy series, A Conjuring of Light sees Schwab reach a thrilling culmination concerning the fate of beloved protagonists—and old enemies.
4. The Wish Granter (Ravenspire #2) by C.J. Redwine – February 14th 2017 by Balzer + Bray
The world has turned upside down for Thad and Ari Glavan, the bastard twins of Súndraille's king. Their mother was murdered. The royal family died mysteriously. And now Thad sits on the throne of a kingdom whose streets are suddenly overrun with violence that he can't stop.

Growing up ignored by the nobility, Ari never wanted to be a proper princess. And when Thad suddenly starts training Ari to take his place, she realizes that her brother's ascension to the throne wasn't fate. It was the work of a Wish Granter named Alistair Teague, who tricked Thad into wishing away both the safety of his people and his soul in exchange for the crown.

So Ari recruits the help of Thad's enigmatic new weapons master, Sebastian Vaughn, to teach her how to fight Teague. With secret ties to Teague's criminal empire, Sebastian might just hold the key to discovering Alistair's weaknesses, saving Ari's brother—and herself.

But Teague is ruthless and more than ready to destroy anyone who dares stand in his way—and now he has his sights set on the princess. And if Ari can't outwit him, she'll lose Sebastian, her brother…and her soul.
5. The Stars are Legion by Kameron Hurley – February 2nd 2017 by Angry Robot
Set within a system of decaying world-ships travelling through deep space, this breakout novel of epic science fiction follows a pair of sisters who must wrest control of their war-torn legion of worlds—and may have to destroy everything they know in order to survive.

On the outer rim of the universe, a galactic war has been waged for centuries upon hundreds of world-ships. But these worlds will continue to die through decay and constant war unless a desperate plan succeeds.

Anat, leader of the Katazyrna world-ship and the most fearsome raiding force on the Outer Rim, wants peace. To do so she offers the hand of her daughter, Jayd, to her rival. Jayd has dreamed about leading her mother's armies to victory her whole life—but she has a unique ability, and that makes her leverage, not a leader. As Anat convinces her to spend the rest of her life wed to her family's greatest enemy, it is up to Jayd's sister Zan—with no stomach for war—to lead the cast off warriors she has banded together to victory and rescue Jayd. But the war does not go at all as planned…

In the tradition of The Fall of Hyperion and Dune, The Stars are Legion is an epic and thrilling tale about familial love, revenge, and war as imagined by one of the genre's most imaginative new writers.
6. Traitor to the Throne (Rebel of the Sands #2) by Alwyn Hamilton – February 2nd 2017 by Faber & Faber
This is not about blood or love. This is about treason.

Nearly a year has passed since Amani and the rebels won their epic battle at Fahali. Amani has come into both her powers and her reputation as the Blue-Eyed Bandit, and the Rebel Prince's message has spread across the desert – and some might say out of control. But when a surprise encounter turns into a brutal kidnapping, Amani finds herself betrayed in the cruellest manner possible.

Stripped of her powers and her identity, and torn from the man she loves, Amani must return to her desert-girl's instinct for survival. For the Sultan's palace is a dangerous one, and the harem is a viper's nest of suspicion, fear and intrigue. Just the right place for a spy to thrive… But spying is a dangerous game, and when ghosts from Amani's past emerge to haunt her, she begins to wonder if she can trust her own treacherous heart.
Which of these looks interesting to you? Any others you want to add to the list?