Hi!!
I think it's time for another round of Books to Look Out For, where I share some awesome upcoming titles that I think you should write down in your diary (or equivalent). This week I'm focussing on non-YA fantasy novels (Big Fat Fantasy, if you've been following my SpecFic101 posts!)
1. The Slow Regard of Silent Things (The Kingkiller Chronicle Short Story) by Patrick Rothfuss – Published 28 October 2014 by Gollancz
The Slow Regard of Silent Things is set at The University, where the brightest minds work to unravel the mysteries of enlightened sciences, such as artificing and alchemy. Auri, a former student (and a secondary but influential character from Rothfuss's earlier novels) now lives alone beneath the sprawling campus in a maze of ancient and abandoned passageways. There in The Underthing, she feels her powers and learns to see the truths that science—and her former classmates—have overlooked.
2. Mitosis (The Reckoners #1.5) by Brandon Sanderson – Published 20 November 2014 by Gollancz
Steelheart may be dead, but Epics still plague Newcago and David and the Reckoners have vowed to fight back.
Catch all the action before "Firefight," the exciting sequel to "Steelheart," hits shelves in January 2015.
3. Winter (Hyddenworld #4) by William Horwood – Published 04 December 2014 by Picador
Only courage can save their lands. Storms rage as the worst winter in living memory ravages the human and Hydden worlds. The prophesied End of Days is here and the universe is dying, yet only a few are even aware of the forces at work.
Jack and Katherine must help their friend Bedwyn Stort halt this chaos by locating the last gem of Winter, something only he can do. Then it must be returned to the Earth's unwilling guardian, their daughter Judith. She will need it to try and reignite the fires of the universe. Yet Stort is riddled with uncertainty. He yearns for Judith, as she does for him, but a love between mortal and immortal cannot be. To find the gem, he must solve this conundrum and vanquish death itself.
But can he really lead mortalkind to salvation?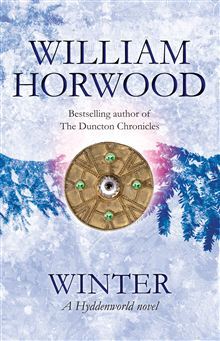 4. Messenger's Legacy (The Demon Cycle Short Story) by Peter V. Brett – Published November 30th 2014 by Subterranean Press.
Humanity has been brought to the brink of extinction. Each night, the world is overrun by demons—bloodthirsty creatures of nightmare that have been hunting the surface for over 300 years. A scant few hamlets and half-starved city-states are all that remain of a once proud civilization, and it is only by hiding behind wards, ancient symbols with the power to repel the demons, that they survive. A handful of Messengers brave the night to keep the lines of communication open between the increasingly isolated populace.
Briar Damaj is a boy of six in the small village of Bogton. Half Krasian, the village children call him Mudboy for his dark skin. When tragedy strikes, Briar decides the town is better off without him, fleeing into the bog with nothing but his wits and a bit of herb lore to protect him.
After twenty years, Ragen Messenger has agreed to retire and pass on his route to his protégé, Arlen Bales. But for all that he's earned the rest, he has no idea what to do with the rest of his life. When he learns Briar, the son of an old friend, is missing, Ragen is willing to risk any danger to bring him safely home.
There are lots of novellas coming out! I guess those authors are churning out shorter stories while working on their main series. Firefight (The Reckoners #2) and The Skull Throne (The Demon Cycle #4) will be out in 2015, but we still don't have a solid release date for Doors of Stone (The Kingkiler Chronicle #3). I'll post up another of these posts closer to December with a list of the amazing (and there are many) titles coming out in early 2015.
Which of these looks interesting to you? Any others you want to add to the list?