Here are my picks for what you must read in September 2015:
1. Zeroes (Zeroes #1) by by Scott Westerfeld, Margo Lanagan, and Deborah Biancotti – September 23rd 2015 by Allen & Unwin
Goodreads || Preorder
Don't call them heroes. But these six Californian teens have powers that set them apart

Ethan aka Scam has a voice inside him that'll say whatever people want to hear, whether it's true or not. Which is handy, except when it isn't – like when the voice starts gabbing in the middle of a bank robbery. The only people who can help are the other Zeroes, who aren't exactly best friends these days.

Enter Nate, aka Bellwether, the group's 'glorious leader.' After Scam's SOS, he pulls the scattered Zeroes back together. But when the rescue blows up in their faces, the Zeroes find themselves propelled into whirlwind encounters with ever more dangerous criminals. At the heart of the chaos they find Kelsie, who can take a crowd in the palm of her hand and tame it or let it loose as she pleases.

Filled with high-stakes action and drama, Zeroes unites three powerhouse authors for the opening installment of a thrilling new series.
2. A Crucible of Souls (Sorcery Ascendant Sequence #1) by Mitchell Hogan – September 22nd 2015 by Harper Voyager
Goodreads || Preorder
After young Caldan's parents are brutally slain, the boy is raised by monks who initiate him into the arcane mysteries of sorcery.

Growing up plagued by questions about his past, Caldan vows to discover who his parents were, and why they were killed. The search will take him beyond the walls of the monastery, into the unfamiliar and dangerous chaos of city life. With nothing to his name but a pair of mysterious heirlooms and a handful of coins, he must prove his talent to become apprenticed to a guild of sorcerers.

But the world outside the monastery is a darker place than he ever imagined, and his treasured sorcery has disturbing depths he does not fully understand. As a shadowy evil manipulates the unwary and forbidden powers are unleashed, Caldan is plunged into an age-old conflict that will bring the world to the edge of destruction. Soon, he must choose a side—and face the true cost of uncovering his past.
3. Twelve Kings (The Song of the Shattered Sands #1) by Bradley P. Beaulieu – September 3rd 2015 by Gollancz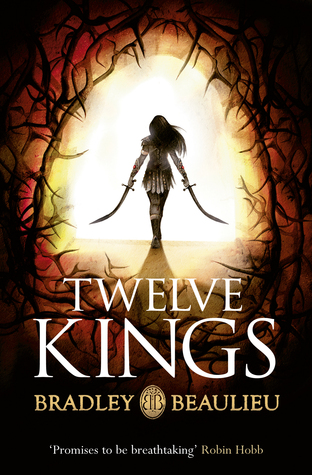 Sharakhai, the great city of the desert, center of commerce and culture, has been ruled from time immemorial by twelve kings—cruel, ruthless, powerful, and immortal. With their army of Silver Spears, their elite company of Blade Maidens, and their holy defenders, the terrifying asirim, the Kings uphold their positions as undisputed, invincible lords of the desert. There is no hope of freedom for any under their rule.

Or so it seems, until Çeda, a brave young woman from the west end slums, defies the Kings' laws by going outside on the holy night of Beht Zha'ir. What she learns that night sets her on a path that winds through both the terrible truths of the Kings' mysterious history and the hidden riddles of her own heritage. Together, these secrets could finally break the iron grip of the Kings' power…if the nigh-omnipotent Kings don't find her first.
4. The Copper Gauntlet (Magisterium #2) by Holly Black and Cassandra Clare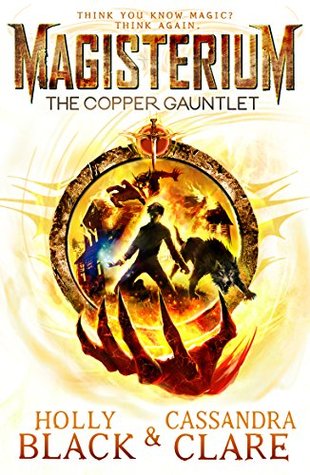 Callum Hunt's summer break isn't like other kids'. His closest companion is a Chaos-ridden wolf, Havoc. His father suspects him of being secretly evil. And, of course, most kids aren't heading back to school in the magical world of the Magisterium . . .

It's not easy for Call . . . and it gets even harder after he checks out his basement and discovers that his dad might be trying to destroy both him and Havoc.

Call escapes to the Magisterium but things only intensify there. The Alkahest – a copper gauntlet capable of separating certain magicians from their magic – has been stolen. And in their search to discover the culprit, Call and his friends awaken the attention of some very dangerous foes – and get closer to an even more dangerous truth.
5. Stray (Spark #2) by Rachael Craw – September 1st 2015 by Walker Books Australia
It's hard to remember hating anything as much as I hate Affinity; a bone-deep loathing for the faceless unknown and the concrete walls of my own DNA.

Evie is a Shield: designed to kill in order to protect, and the Affinity Project have finally come for her. But Evie isn't ready for the sinister organisation to take control of her life, her body, her mind. She isn't ready to follow their rules about who may live and who must die – not when it condemns the innocent. She has one option: risk losing everything and everyone – including Jamie – and run.
6. Queen of Shadows (Throne of Glass #4) by Sarah J. Maas – September 1st 2015 by Bloomsbury UK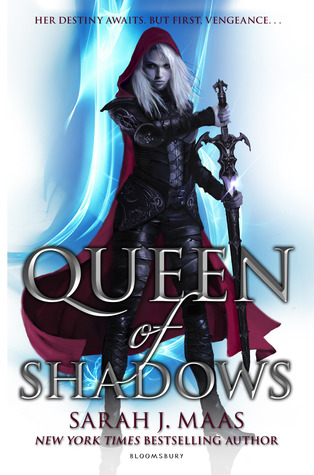 Everyone Celaena Sardothien loves has been taken from her. But she's at last returned to the empire—for vengeance, to rescue her once-glorious kingdom, and to confront the shadows of her past . . .

She will fight for her cousin, a warrior prepared to die just to see her again. She will fight for her friend, a young man trapped in an unspeakable prison. And she will fight for her people, enslaved to a brutal king and awaiting their lost queen's triumphant return.

Celaena's epic journey has captured the hearts and imaginations of millions across the globe. This fourth volume will hold readers rapt as Celaena's story builds to a passionate, agonizing crescendo that might just shatter her world.
7. The Rest of Us Just Live Here by Patrick Ness – August 27th 2015 by Walker Books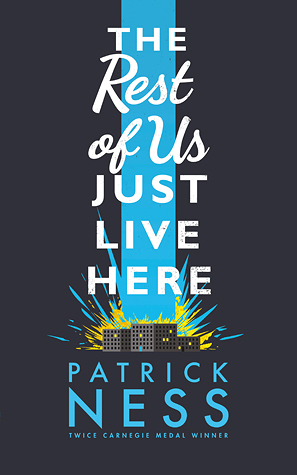 What if you aren't the Chosen One?

The one who's supposed to fight the zombies, or the soul-eating ghosts, or whatever the heck this new thing is, with the blue lights and the death?

What if you're like Mikey? Who just wants to graduate and go to prom and maybe finally work up the courage to ask Henna out before someone goes and blows up the high school. Again.

Because sometimes there are problems bigger than this week's end of the world, and sometimes you just have to find the extraordinary in your ordinary life.

Even if your best friend is worshipped by mountain lions.
8. Six of Crows (Six of Crows #1) by Leigh Bardugo – September 29th 2015 by Henry Holt and Company (Hachette Australia)
Ketterdam: a bustling hub of international trade where anything can be had for the right price—and no one knows that better than criminal prodigy Kaz Brekker. Kaz is offered a chance at a deadly heist that could make him rich beyond his wildest dreams. But he can't pull it off alone…

A convict with a thirst for revenge.

A sharpshooter who can't walk away from a wager.

A runaway with a privileged past.

A spy known as the Wraith.

A Heartrender using her magic to survive the slums.

A thief with a gift for unlikely escapes.

Six dangerous outcasts. One impossible heist. Kaz's crew is the only thing that might stand between the world and destruction—if they don't kill each other first.
Which of these looks interesting to you? Any others you want to add to the list?