Hi guys!!
It's annual report time for me, which doesn't impact you at all, but I'm quite stressed. This means I don't have the time to read as much as I usually would.
So today, we're ogling the new Robin Hobb covers, because a) I love them; b) I need to convince you all to read her books; and c) I'm so excited to see her at Supanova Sydney this weekend (provided my annual report goes well).
What am I talking about?
Robin Hobb is awesome and she has written some of my favourite books ever. The first books I ever picked up by her were The Soldier Son Trilogy, which the fandom almost unanimously agrees are her least popular books. And I loved them! I loved them so much I went out and bought all her books (that I could afford) and steadily read them over a year. And then joined everyone else breathlessly waiting for anything else she might write.
Realms of the Elderlings
Most (but not all) of Robins's books are set in the same world, called Realms of the Elderlings. The first of these, both chronically and in publication order, is Assassin's Apprentice. It's about the bastard son of a Farseer lord who, after years of being shunned by his family, has been accepted into the royal household and begins training to be the royal assassin.
The books in this world are (in publication order):
— The Farseer Trilogy —
Assassin's Apprentice
Royal Assassin
Assassin's Quest
— Liveship Traders —
Ship of Magic
The Mad Ship
Ship of Destiny
— The Tawny Man —
Fool's Errand
Golden Fool
Fool's Fate
— The Rain Wild Chronicles —
The Dragon Keeper
Dragon Keeper
City of Dragons
Blood of Dragons
— Fitz and the Fool —
Fool's Assassin
The new covers
So what are these new covers I'm harping on about? Well, after taking a long break from writing about Fitz and the Fool, the characters who started it all in Assassin's Apprentice, Robin is going back to them in her newest release, Fool's Assassin.
She's writing a whole new trilogy using our (my) favourite characters, and it's going to be awesome!
The UK (left) and US (right) covers for Fool's Assassin:
Pretty, pretty, pretty.
So of course, with the beautiful covers of Fool's Assassin out, all the Realms of the Elderlings books will have matching covers! Right? Right?! *eye twitch* I need my books to match.
Check out the pretty new UK covers of The Farseer Trilogy and The Tawny Man trilogy: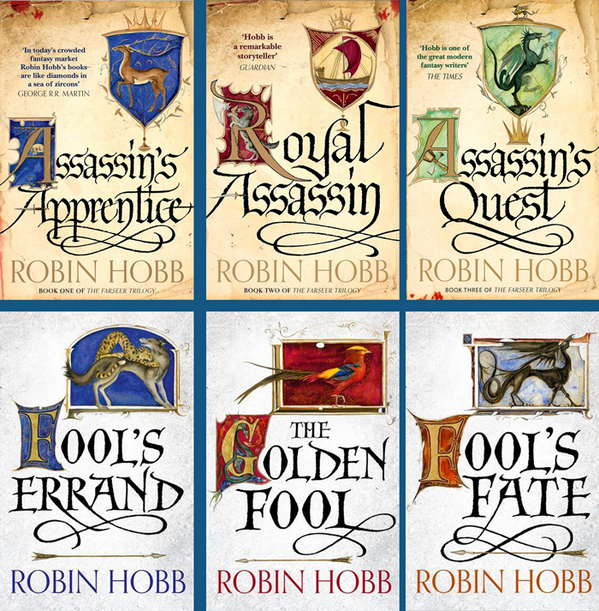 Oomph! Ok so, the new editions of The Farseer Trilogy are already available from your favourite book stores. I know because I nabbed them last weekend (along with some other books) –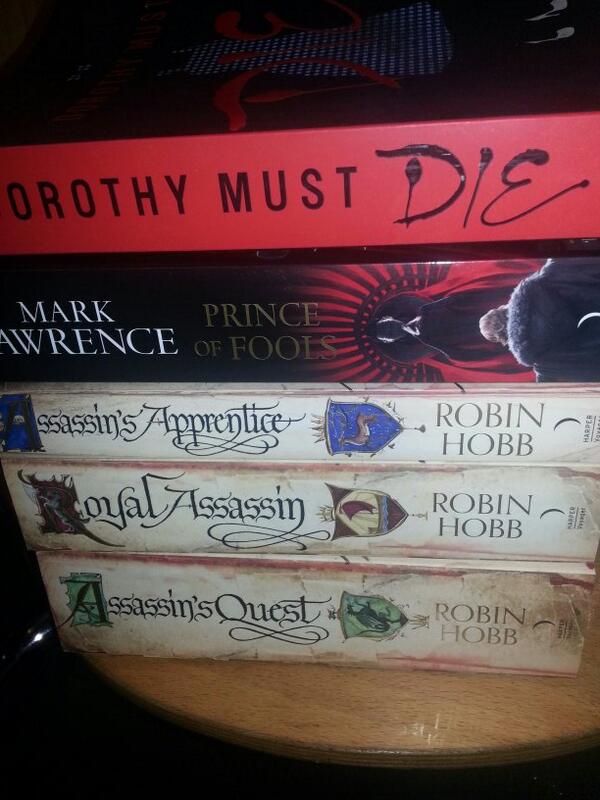 The new editions of the The Tawny Man trilogy will be available at the end of July.
But the US market doesn't miss out, nope. The US editions of Liveship Traders have come out, matching their edition of Fool's Assassin:
If there are more matching covers, such as US editions of Farseer and Tawny Man, then I'm guessing they will be released before the August release of Fool's Assassin.
I'm so very excited about Fool's Assassin. I'm also excited about collecting the new matching covers!