Welcome to Stocktake Saturday! This feature is where I share some bookish news with you and then show you all the bookish goodies I got over the week.

The cover reveals from the last week – (links to Goodreads pages)
In Bookish News, it's been a huge week for publishing deals. Here are some of the highlights, but you can check out the full list at Publisher's Weekly.
Scholastic has acquired the world rights to Pip Bartlett's Guide to Magical Creatures and two other books in a new series by Maggie Stiefvater and Jackson Pearce. They will be illustrated by Stiefvater. In the series, Pip is a girl who can talk to magical creatures, her aunt is a vet for magical creatures, and her new friend Tomas is allergic to most magical creatures. When things go amok – and they often do – Pip consults Jeffrey Higgleston's Guide to Magical Creatures, a reference work that requires frequent amending. The first book will be published in 2015.
Jodi Picoult and her daughter, Samantha van Leer have signed with Random House Children's Books for a new YA novel called Off the Page, a sequel to Between the Lines. It is scheduled for a May 2015 release.
C.J. Redwine (Defiance, Deception, Deliverance) has signed with Balzer + Bray (HarperCollins) for two YA novels. The first book, The Shadow Queen, is a dark fantasy inspired by "Snow White," in which a princess has lived in hiding from her stepmother for years, until the false queen sends out a new kind of huntsman – the crown prince of a nation of powerful dragon shifters, desperate enough to save his people to ally himself with even an evil usurper. It's scheduled for 2016.
Greenwillow Books have preempted a new YA fantasy novel by Victoria Schwab in a two book deal. Monster tells the story of a teen boy and girl who never should have met, since their fathers are rival leaders of a divided city where violence breeds literal monsters. Conspiracies and betrayals send the teens on the run for their lives, but together, they could become each other's worst nightmare. Publication is planned for 2016.
Chad Hodge, the creator of the Fox TV series Wayward Pines, has been tapped to adapt the first book of the Darkest Minds YA trilogy by Alexandra Bracken. Read more here.
Tessa Gratton is writing three new United States of Asgard novellas. They release on November 17th and are called Gold Runner (a Novella of Godlings, Theft, and Teenaged Gods), Lady Berserk (a Novella of Dragons, Trickster Gods, and Reality TV), and Glory's Teeth (a Novella of Hungry Girls and the End of the World). Read more here.
This week's reviews:
I also had the blog tour for T.M. Franklin's Twelve hop by with a guest post and author interview. Check it out here. I'm still struggling to read as much as I usually do: on Tuesday we had a contractor come to our new house to put in a TV antenna and a new data point, and he managed to drill through a water pipe. It was horrible! There was an emergency plumber involved. It took most of this week to get it all sorted: we had a plasterer come in to fix the hole in the wall, then a carpet person who used a magical machine to suck all the water out of the carpets, and then a painter to paint over the plastering.
Now it looks like nothing ever happened!
In the midst of all that chaos my mum came to visit, and it was awesome! And our dining table came. It's a wonderful Tasmanian Blackwood table that extends from a 4 seater to (potentially) a 10 seater. We're very proud of it! Here's a photo: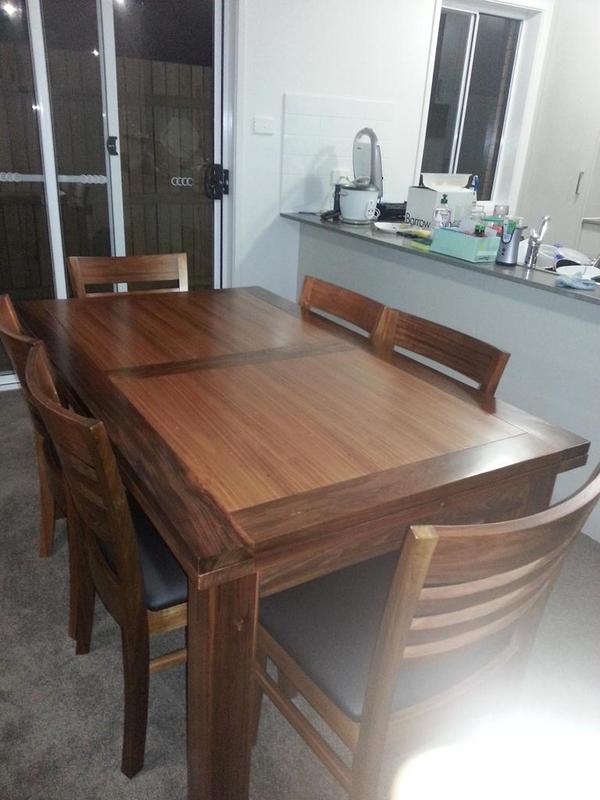 I got two e-ARCs from Edelweiss:
I hope you have some goodies to share as well, leave your links below and I'll be sure to visit 🙂
Happy Reading!