Welcome to Stocktake Saturday! This feature is where I share some bookish news with you and then show you all the bookish goodies I got over the week.

The cover reveals from the last week – (links to Goodreads pages)
In Bookish News, the release dates for Shimmer (The Rephaim #3) by Paula Weston have been announced. June 25th for Australia and New Zealand (text Publishing) and July 3rd for the United Kingdom (Indigo).
Laini Taylor announced her book tour for Dreams of Gods and Monsters (Daughter of Smoke and Bone #3), and she's pretty sure she's coming to Australia and New Zealand in August/ September.
Are you excited about the launch of Jessica Shirvington's Disruption?? I am!! The official book launch is being held by HarperCollins Publishers AU in the George Street Dymocks at Sydney on Wednesday March 26th, from 5pm onwards.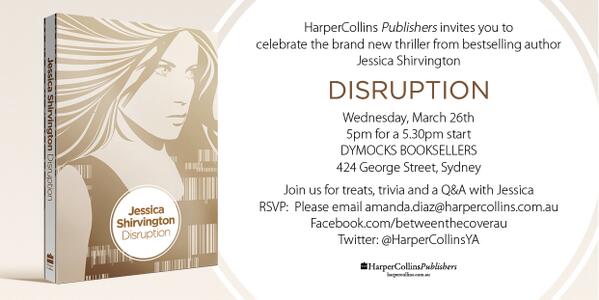 Isla and the Happily Ever After has a release date. The third book in Stephanie Perkins' Anna and the French Kiss series will be available on August 14th 2014. In case you're thinking, oh but they've announced other dates before and it hasn't come out, well those were all place-holder dates, a necessary evil when publishers make their book catalogues between 3 and 9 months in advance. August 14th 2014 is the official release date!

This week's reviews:

I also posted up two cover reveals – one for the Australian cover of Rebel (Reboot #2) by Amy Tintera, and the other for Delete (Shift #3) by Kim Curran.
Don't forget to enter my Aussie giveaway for one of three copies of The Last Shot (The Last Trilogy #2) by Michael Adams.
My book hauls, beginning as usual with the physical copies, thanks to Bloomsbury Australia, Simon & Schuster AU, Murdoch Books Australia and Scholastic AU (links to Goodreads):
And e-galleys from Netgalley and Edelweiss:
I also bought:
Anna and the French Kiss (Anna and the French Kiss #1) by Stephanie Perkins – I'd borrowed this from the library, but I wanted my own copies and the new covers are so pretty! I already have the re-issue of Lola.
Altered (Altered #1) by Jennifer Rush – another book I'd borrowed from the library. I saw it at the bookstore and had to have my own copy!
I hope you have some goodies to share as well, leave your links below and I'll be sure to visit 🙂
Happy Reading!